Spain's mainstream parties pull ahead of Podemos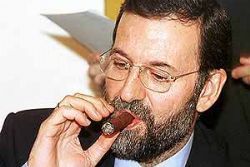 Spain's governing People's Party (PP) and the main opposition socialists (PSOE) have pulled well ahead of anti-establishment party Podemos ahead of national elections later this year, polls showed on Sunday.
Voter support for the centre-right PP stood at 29.1% while the PSOE was on 25.1%, according to a survey by pollsters GAD3 published in Spanish daily ABC.
Support for Podemos, which transformed Spain's political landscape in mid-June when leftist municipal coalitions it backed took power in four of the country's five biggest cities, fell to 15.0%.
A second survey, by research firm Simple Logica and published on news portal larepublica.es, produced a similar result.
The findings contrast with recent polls that have shown the three parties running virtually neck-and-neck. In a survey from Metroscopia, considered the benchmark in Spain, published in El Pais on July 5, they all stood at between 21.5 and 23.0%.
Both the GAD3 and Simple Logica surveys questioned around 1,000 voters. The former was conducted between June 23 and July 8 and the latter from July 1-9.
The parliamentary elections are expected to take place in November.
Recommended Reading :
* Rajoy insists on 'stay the course' plan to win Spanish re-election
* Rajoy confirms no early general election for Spain