Spain receives 29.2 mln int'l tourists until June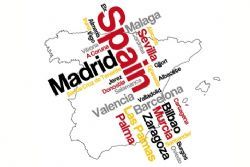 Spain received a total of 29.2 million international tourists in the first six months of the year, according to data revealed on Wednesday by the Spanish Ministry of Industry, Energy and Tourism.
The figure represented a 4.2% increase when compared with the same period of last year, meaning that 1.2 million international tourists more have visited Spain in this period of 2015.
Tourists arriving from Britain increased by 2.6% in the first semester to a total of 6.7 million of arrivals that accounted for 23% of the total.
They were followed by the Germans, whose arrivals reached 4.7 million meaning a 1.6% increase on year-on-year. They accounted for 16.2% of the total.
Meanwhile, arrivals from France increased by 7.5% to 4.6 million in the first 6 months of the year, accounting for 15.6% of the total.
Catalonia was chosen as the main destination receiving 7.4 million international tourists, which meant 4.4% more than in the same period a year ago. It was followed by the Canary Islands that received 5.6 million and the Balearic Islands that received 4.4 million international tourists.
Spanish Minister of Tourism, Jose Manuel Soria, said that the number of international arrivals in Spain would probably hit a new record high this year, as the amount of tourists arriving in the country has been "the best in history" until June.
Spain is the 3rd most visited country in the world after breaking a record high in the number of international tourists in 2014 when it received 64.99 million international visitors.
Recommended Reading :
* Spain's Hotels becoming more Chinese-friendly
* After Tunisia attacks, sun seekers switch to Spain