Sacyr, still reeling from Corvera upset, struggling with Repsol debt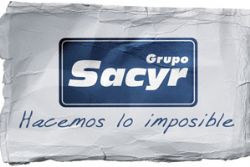 Spanish builder Sacyr said on Thursday it would use around EU600 Mln from the sale of real estate unit Testa to partially pay down a loan it took out to buy a stake in oil company Repsol.
Sacyr is already reeling from the after-effects of the fines and penalities associated with their botched attempts to bring Murcia's Corvera Airport into operation, before finally losing the concession.
The company bought the stake in Repsol, which now stands at 9%, in 2006 in a move to diversify its business away from construction before Spain's building boom collapsed. It largely services the debt with dividend payments from the oil company.
Sacyr will reduce by a quarter the loan with the proceeds from the sale and end up owing the bank syndicate EU1.7 billion, the builder said in a statement. The loan accounts for a significant part of Sacyr's net debt which stood at EU7.1 Bln at end-March.
The payment coupled with a refinancing of the debt makes Sacyr's investment in Repsol more stable as the value of the stake has sharply fallen.
The company bought at EU26.7 per share in 2006. Repsol shares are currently trading at EU16.4, still lagging the stake's book value in Sacyr's accounts which stood at EU19.9 at the close of 2014.
The builder said on Thursday it would book capital gains of EU1.28 Bln from the sale of the Testa real estate unit to Merlin Properties.
Recommended Reading :
* Murcia to fine Sacyr over Corvera Airport highway refusal
* Murcia to fine SACYR over Corvera Airport highway refusal