FACUA demands Ryanair compensates passengers affected by strike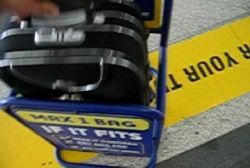 Spanish Consumer Association FACUA has demanded that Ryanair compensates passengers affected by the company's handling staff strike at Madrid-Barajas airport the same as if the scheduled flights had been cancelled.
The company warnied passengers flying via Barajas that, for the duration of the strike, they could not check in luggage. As an alternative, the company offered the possibility of carrying 2 pieces of hand luggage, but offered no option other than cancelling the flight and be refunded to those who needed to fly with checked in luggage.
FACUA considered that the offer was insufficient and that Ryanair must compensate users due to the damage that this cancellation caused them, as it is having to find a more expensive alternative mean of transportation for the same route in a short period of time.
FACUA reminds that Ryanair cannot argue that this is a 'force majeure' case to refuse facing compensations, since a strike of the company's staff is not an external and unpredictable event. It is considered so in Spanish jurisprudence, the Association warns.
In addition, handlers' strike was at the time 'indefinite', so the company had time to articulate an answer to compensate users affected.
FACUA considers that users should demand their right to compensations as established in Regulation (EC) 261/2004 of the European Parliament and Council, and, when appropriate, compensation for damages caused by the cancellation (that the company allows to do) of their flight.
If the company does not provide the baggage check-in and transfer service and this is essential for the user, FACUA reminds that the situation is equivalent to a cancellation.
Recommended Reading :
* Ryanair petition calls for ban on Spanish ATC strikes
* Ryanair change of strategy sees profits bounce back in 2014