Spain's Euskaltel agrees offer for R Cable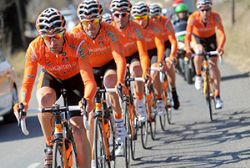 Euskaltel said on Thursday it had agreed an offer for fellow cable company R Cable, giving it an enterprise value of EU1.2 Bln in the latest wave of consolidation in the Spanish telecommunications market.
Tough competition and falling prices during a recession have driven multibillion takeover deals in Spain with France's Orange buying telecoms group Jazztel in September and Vodafone buying cable operator Ono in March.
This latest deal between two of the last three independent cable operators in the country will create a network of around 725,000 kilometres to serve 715,000 residential and business customers in the north of Spain, Euskaltel said.
Basque country-based Euskaltel has offered shareholders in Galicia-based R Cable a deal mostly in cash with the rest in new shares, the company said in a statement, without giving further details. The regionally-focused companies will retain their own brands.
The offer values R Cable, which is majority owned by private equity firm CVC, at around 10.9 times its earnings before interest, tax, depreciation and amortisation (EBITDA), a similar valuation to Euskaltel's stock market listing earlier this month, the company said.
The agreement has been authorised by the boards of both companies and is subject to due diligence and regulator approval.
Analysts had long expected further tie-ups amongst small companies in Spain's cable market, where Vodafone is the biggest player following its Ono purchase in March.
Telecable, a cable company in the northern region of Asturias majority-owned by U.S. private equity fund Carlyle , is the last remaining independent player.
Euskatel's main shareholders are former savings bank Kutxabank, Italian-owned private investors International Cable and Spanish utility Iberdrola.
Recommended Reading :
* Spain's Telefonica to hike prices
* Vodafone Spain subscribe users to new service without consent