Spain's Podemos losing support amongst voters - poll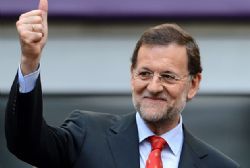 Spain's anti-austerity party Podemos slipped further behind two mainstream parties in a poll published by the El Pais daily on Saturday, less than six months before a parliamentary election expected in November.
Support for Podemos slipped to third place in the poll it had led as recently as April, with the ruling People's Party (PP) and opposition socialist PSOE running neck-to-neck in first and second place.
Support for the PSOE stood at 23.5% while the centre-right PP was on 23.1%, the Metroscopia poll showed, with Podemos and another newcomer, the centrist Ciudadanos party, trailing at 18.1% and 16% respectively.
Podemos's showing was 3 percent points lower than its support level in the same poll less than one month ago and 10 percentage points lower than its maximum level of support in January.
The head of pollster GAD3 last week told Reuters that faltering support for Podemos, often aligned with Greece's left-wing Syriza party, was partly due to turmoil in Greece, which is in talks over a third bail-out program with international creditors.
Spain's recovering economy, growing at one of the fastest rates in the euro zone, has played in favour of the governing PP. Spain's jobless rate dropped to its lowest level in over 3 years in Q2, data released on Thursday showed.
Metroscopia surveyed 1,000 people between 20 and 22 of July for the poll.
Recommended Reading :
* Spain sees unemployment fall to 3 year low end Q2
* Spain's mainstream parties pull ahead of Podemos