New PP Delegate for Murcia brings Corvera Airport Confidence ?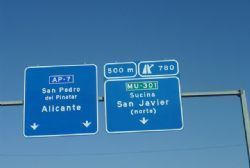 Antonio Sanchez-Solis Querol, who for the last two decades has been in charge of keeping afloat San Javier Airport, and later to oversee the transition with Corvera airport, has been appointed as the new government delegate for the region of Murcia.
Sanchez-Solis was named yesterday by the Council of Ministers, has likely been appointed due to his capacity to resolve the problematic issues between the regional government, Aeromur and AENA surrounding Corvera Airport.
The new delegate previously worked in the Government of Ramon Luis Valcarcel as CEO of Transport and has held different positions in the ministries responsible for managing the airport until the last legislature made him responsible for Transport, Ports and Coasts.
It can only be hoped that the appointment of a delegate with considerable experience of the situation between Corvera and San Javier Airports will have a positive and timely effect on any future developments.
Recommended Reading :
* Back to square one for Corvera Airport
* Murcia's San Javier Airport : Not the best of legacies for Corvera