Paramount UK rolls on as Murcia coasts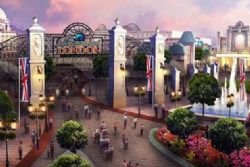 Paramount Theme Park UK took a major step forward yesterday as developers announced it had bought 18 acres of land in north Kent for the ambitious and widely anticipated project.
The £2bn (approximately €2.8 billion) project, backed by Kuwaiti investors is scheduled to open in 2020.
Operating group London Resort Company Holdings (LRCH) who owns the Paramount licensing agreement was bought by Kuwaiti European Holding (KEH) Group 2 years ago and have been financing the project ever since.
Consultations with local residents are already in full swing. Attendees were asked to give feedback via forms at the events and more than 77% of those who did, said they thought the plans would certainly benefit the area.
However, Paramount Theme Park Murcia appears to have completely stalled.
Premursa, the Paramount licence holder, has already acquired several acres of land, begun land clearance and submitted planning applications. Yet, red tape, countless planning amendments and the traditional town hall apathy and bureaucracy have all added to serious delays.
The proposed park has already been significantly reduced in size due to land acquisition disputes, yet promoters are still unable to secure the funding it requires to complete the project.
Jesus Samper, 80% share holder in Premursa, along with the Region de Murcia government with a 20% stake had both previously stressed that the Region de Murcia would not be financially supporting the project. However in 2014, the Secretary of State for commerce was seeking EU financing of €18 million to kick start construction.
The former regional president of Murcia, Jose Ramon Varcacel, who threw his weight behind the theme park has since taken up a new position as Chairman of the EU's Committee of the Regions.
Already under investigation over corruption allegations, Varcacel's new role could prove useful in public financial arrangements for Paramount Theme Park Murcia from the EU, although likely to be incredibly controversial.
To compound problems further, the announcement in April 2015 that Santa Monica Sports, holding company of the group which includes Premursa, has been forced into bankruptcy raises speculation that Paramount Murcia will not only completely miss it's expected completion by the end of 2016, but may never even open at all.
Paramount Theme Park UK still requires full government and local planning approval, but the acquisition of land, ministerial support and having international financial backing sets a significant milestone towards its completion, which is expected to occupy 872 acres of brown field land.
Applications for formal planning permission by Paramount Theme Park UK are due to be submitted during winter 2016.
Recommended Reading :
* Paramount Murcia under further pressure from Paramount London
* Paramount London : What lessons can Spain and Murcia learn ?