Clashes in Catalan resort town after Senegalese man dies in police raid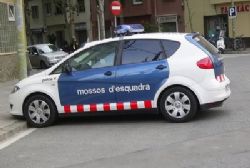 A 50-year-old Senegalese national died on Tuesday after jumping off a third-floor balcony balcony during a police raid in Salou, an incident that set off clashes between authorities and a group of African migrants in the Catalonia resort town.
The Mossos d'Esquadra Catalan regional police were attempting to arrest the man during an operation aimed at cracking down on the illegal selling of imitation goods.
At least one person has been arrested in the clashes and 24 others suffered minor injuries, including a number of police officers.
As the victim's body was being carried away, a riot broke out among 200 African migrants, who threw rocks at police officers, burned trash bins and also blocked nearby rail lines.
The Mossos fired blanks in the air to try to calm the angry crowd, which had gathered in Sant Jordi square where the Senegalese man fell to his death, witnesses told Efe News Agency.
Mossos spokesperson Xavier Gámez confirmed that police had come to arrest the victim but said no altercation had taken place before he jumped to his death.
The police operation aimed at cracking down on distributors of cheap imitation goods, which are mainly sold on the street by African migrants, had begun at around 6am. A local court had issued search warrants for three homes, where the items were suspected of being stored.
When the Mossos arrived at one of the homes, according to Gámez, the Senegalese man suddenly jumped from the third-floor balcony after seeing the officers.
About a dozen people were arrested in the operation.
Recommended Reading :
* UK and Spain grants most EU Citizenships
* EC migrant quota assigned to Spain