Rajoy : "China volatility will not affect Spain forecasts"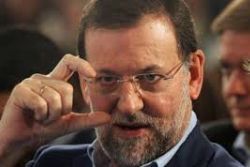 Spain's Prime Minister said on Tuesday the market volatility caused by China would not affect his country's forecasts for unemployment and growth.
"What's happening in China is not going to have very serious repercussions for the Spanish economy," Mariano Rajoy told reporters in the parliament. "In the medium to long term, that is not going to influence forecasts for the Spanish economy."
Chinese stocks plunged almost 9 percent on Monday, their worst performance since the depths of the global financial crisis, sending reverberations through world markets.
Recommended Reading :
* EU1 Bln hole in Spanish defence budget
* Spanish stock market loses 5% : Biggest fall in 3 years