Separatist says independent Catalonia would leave EU temporarily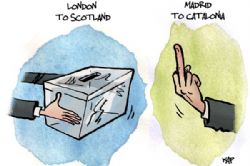 A separatist leader has said Catalonia would have to leave the European Union temporarily if it won independence from Spain, in remarks that could be a vote-loser in Sept. 27 elections.
Jordi Sanchez, president of the Catalan National Assembly, a pro-independence organisation, later said however he wanted to "correct" his remarks. Polls have shown that support among Catalans for independence falls if it means leaving the EU, of which Spain has been a member since 1986.
Catalonia's president, Artur Mas, has portrayed the regional election as a proxy vote on independence after Spanish Prime Minister Mariano Rajoy's government blocked a referendum on the issue.
Sanchez, in an interview on Wednesday with radio station Cadena Ser, said it was a reality that an independent Catalonia would be temporarily outside the 28-nation EU, although that did not mean leaving the euro single currency.
"Initially, it is indisputable (that Catalonia would be outside the EU), but being outside doesn't mean there aren't agreements on relations with the EU and that we can't keep all the conditions that Catalonia has today in relation to Europe."
Sanchez later said on Twitter he had been wrong to say it was "indisputable" Catalonia would temporarily have to leave the bloc. "It is inaccurate and I correct it," he said.
"EU treaties do not foresee what to do in the case of secession. Catalonia's membership of the EU would be a political decision, not a legal one."
A spokesman for Spain's ruling centre-right People's Party said EU institutions had been clear that an independent Catalonia would have to re-apply for membership.
The question of whether a region seceding from an EU member state could stay in the EU was a hot issue in the 2014 Scottish independence referendum campaign, which ended with Scotland voting to remain part of Britain.
The EU's executive Commission said then that any seceding region would no longer be part of the EU and would have to reapply for membership, which could entail lengthy negotiations.
Pro-independence Catalan parties have agreed to present a joint list of candidates in next month's election to avoid splintering the separatist vote.
Separatist leaders have said a victory for them in the election would launch a "road map" to independence within 18 months.
Recommnded Reading :
* Catalan citizenship offer enrages authorities in Valencia and Aragon/a>
* Catalan Nationalists plan to leave Spain by 2017