Consumption drives Spanish economy to grow in Q2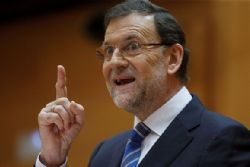 The Spanish economy expanded at a 1% clip in Q2 from the first, its fastest pace in more than eight years as consumer spending powered ahead, data showed on Thursday.
That improved from a 0.9% reading in Q1 and could mark the high point of growth, according to some economists. The final data from statistics institute INE was in line with forecasts.
The conservative government, hopeful that the pick-up in the economy will be a decisive factor in a national election due by year end, expects full year growth of 3.3%.
Year on year, Spain grew 3.1% in Q2, up from 2.7% in the first and also meeting forecasts in a Reuters poll.
Spain exited an economic downturn in late 2013 following a six-year slump after a housing bubble burst, saddling banks and citizens with mountains of debt.
Driving growth now is a recovery in consumer spending, up 1.0% in Q2 and accelerating from 0.7% in the first, as unemployment edges lower.
Both exports and imports grew strongly, increasing their rate of expansion from the first three months in quarterly terms. Exports were up 1.6% and imports jumped 2.3%.
In annual terms, public spending jumped 1.0% in Q2 after 0.2% in the first.
Recommended Reading :
* IMF warns Spanish economy may slow over next 5 years
* Spain's economy to keep growing at around 1% in Q3