Spain accuses suspect of running Islamic State network Morocco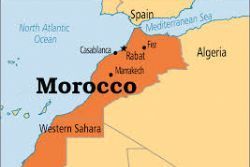 A Moroccan man arrested in Spain this week is accused of coordinating a network of Islamic State supporters in Moroccan cities who spread the group's message and recruit militants to fight in Iraq and Syria, a court document said on Thursday.
Abdeladim Achriaa was detained on Tuesday in a small town near Madrid as part of a joint Moroccan-Spanish police operation against alleged Islamic State sympathisers. Thirteen others were arrested in Morocco.
The arrests came days after a heavily armed 26-year-old Moroccan man who used to live in Spain was accused of attacking passengers on a train in France. A Spanish Interior Ministry source said there was no link between that case and the latest arrests.
Achriaa, who has a Spanish residence permit, appeared before examining magistrate Juan Pablo Gonzalez at Spain's High Court on Thursday. Citing a high risk of flight, Gonzalez denied bail to Achriaa and ordered him held on terrorism charges pending further investigation.
Achriaa, whose Facebook profiles included one under the name "salami Jihadi", is accused of "coordinating the members of a Syrian-Iraqi affiliate of Islamic State deployed in several cities in Morocco", a court document said.
The group is suspected of recruiting foreign fighters and sending them to join Islamic State, which occupies parts of Syria and Iraq. Ultimately, the members of the group intended to emigrate to join Islamic State themselves, the document said.
Achriaa's partner Hafsa Azaoum is the daughter of one of the other suspects arrested this week and five of her brothers have gone to fight for Islamic State in Syria, it said.
The Spanish Interior Ministry said on Tuesday it suspected Achriaa and the other detainees of planning attacks but the court did not repeat this in Thursday's order.
It said however that the network spread propaganda about Islamic State violence "with the goal of creating a climate of psychosis and terror in the population".
Gonzalez voiced concern about the threat posed by Islamic State fighters returning to Spain from Syria and about the group's links to Melilla, a Spanish enclave in North Africa.
He said Achriaa had travelled to Morocco many times, via Melilla, most recently entering Melilla from Morocco on June 17.
Recommended Reading :
* Spain, Morocco arrest 14 suspected of recruiting for ISIS
* Islamisation 'Stronger in Spain than Germany'