Bank of Spain asked to investiate double ATM charges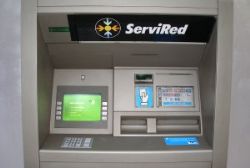 Spanish Consumer Action Association FACUA has submitted a report to Banco de España (Bank of Spain) in which it requests them to act against the double fees banks are charging users for withdrawing money from ATMs and to impose the appropriate fines.
Banco Santander has recently announced that they will join La Caixa and BBVA to charge this fee to customers of other banks that use their ATMs to withdraw money. The main bank of the country has said that they expect to be charging the fee in the fourth quarter of the year and that it will be of two Euros.
Indifference of Bank of Spain
FACUA criticises the indifference shown by Bank of Spain and requests it to exercise its sanctioning power and take measures to guarantee that users do not pay two fees for just one service. These irregularities have been taking place since last March, when La Caixa started applying the double fee, and soon there will be other banks doing the same.
Up to now, it was the banks issuing credit or debit cards the ones that applied this kind of fees to users –from 0.65 to 1.50 Euros- for withdrawing money using ATMs of other banks; and from the fee they charged diverted a small part to the bank owner of the ATM. If this fee is kept, users who are not clients of Santander, BBVA and La Caixa will be paying twice for the same service, which is the provision of cash, the association warns.>
FACUA reminds that even though the bank fees are free, they must belong to services that have been effectively given.
The association urges users to complain
The association urges users whose banks are applying them a fee for provision of cash and now La Caixa, BBVA and Santander charge them again the new fee, to request its refund, since they cannot be charged twice for the same service.
In its report, the association reminds that Article 12 of Royal Decree 8/2014, of July 4, passing the urgent measures for growth, competitiveness and efficiency states that "beneficiaries of payment operations in which the exchange rates have been limited (...) will not be allowed to demand the official issuing the payment to pay expenses or additional fees for using a credit or debit card".
Since the double fee can also affect users from other EU countries visiting Spain, the association mentions in its report Regulation (EC) No. 924/2009, of the European Parliament and of the Council, of 16 September 2009, on cross-border payments in the Community. In Article 3.1., this law states that "charges levied by a payment service provider on a payment service user in respect of cross-border payments of up to EUR 50,000 shall be the same as the charges levied by that payment service provider on payment service users for corresponding national payments of the same value and in the same currency."
Recommended Reading :
* More Spanish Banks to be swallowed up
* Bank of Spain sees room for more bank sector consolidation