Tight poll points to political struggle over Catalan independence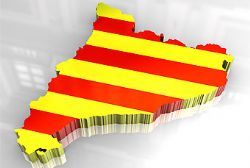 The political struggle over Catalan independence from Spain looks set to intensify after an official opinion poll on Thursday showed separatist parties on track to achieve the slimmest of majorities in a regional election this month.
Catalan President Artur Mas has portrayed the Sept. 27 vote as a proxy vote on independence for the wealthy northeastern region after the Madrid government went to court last year to block a referendum on Catalonia breaking away from Spain.
But a poll of 3,000 Spanish voters by the state-run Sociological Research Centre (CIS) showed Mas's hopes for a resounding endorsement for a unilateral declaration of independence to be under threat.
Mas has said that a separatist majority of at least 68 seats in the 135-member Catalan parliament is the minimum needed to launch a "road map" to secession within 18 months.
The CIS poll showed separatist parties, including the main pro-independence movement Junts pel Si and the more radical, left-wing CUP, achieving a combined vote of around 44 percent and 68-69 seats - the narrowest possible majority.
If the poll results were confirmed on election day, it would give ammunition to opponents of independence - as they may well argue that the separatist parties would lack a mandate sufficient to push ahead with an independence campaign.
Falling short of a majority in the Catalan parliament would be a severe blow to the separatist cause.
The two parties that comprise the Junts pel Si movement are expected to win 60-61 seats in the Sept. 27 election, the survey found, down from the 71 they won in the last regional election in 2012 that they entered separately.
Spain's centre-right PM Mariano Rajoy fiercely opposes Mas's attempts to turn the Catalan election into a proxy vote on independence. He said last week that independence for Catalonia, which accounts for nearly a fifth of Spanish economic output, would never happen and described it as "nonsense".
Tens of thousands of flag-waving supporters of independence are expected to flood the streets of Barcelona on Friday for a march marking Catalonia's national day, which this year will also signal the start of campaigning for the Catalan election.
Business leaders are growing worried that political uncertainty over Catalonia's future could harm trade.
A Catalan business group voiced concern last week over attempts to turn the regional election into a test of support for independence, saying secession from Spain could threaten Catalan membership of the European Union and the euro zone.
In a report on Thursday, Moody's Investor Service said its ratings on Spanish and Catalan debt did not incorporate any potential impact from Catalan secession, "as we believe there is a low probability of the region separating from Spain in our rating horizon."
Recommended Reading :
* Cameron warns Catalonia that independence means leaving EU
* Merkel calls on Catalonia to respect territorial sovereignty agreements