1 Mln Catalans Still Undecided about Spanish Independence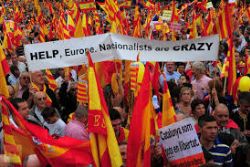 The start of the election campaign in Catalonia on Friday polarized a split between supporters of independence and permanence in the Spanish state are focusing their attention on about a million undecided.
According to the latest survey by the Center for Sociological Research (CIS, in Spanish), under the Ministry of the Presidency, 26.1 percent of voters remains with undefined orientation regarding their vote on next September 27. This sector can set the balance to one side or another in a context where the polls show similar proportions for both sides, and a narrow majority is attributed to those who favor independence.
According to the CIS, the separatist parties obtained 44% of votes, but -given the electoral system- it will be enough to ensure the 68 deputies who give absolute majority in the regional parliament of 135 seats.
The proportions take particular importance for the referendum character granted to those choices, so it is considered that if independence wins, a mandate from the people will be installed to carry out secession from Spain.
The Spanish government, however, warns that these are only elections for the regional parliament and any other interpretation is unconstitutional, illegal and it will not be allowed.
The official start of the electoral campaign coincides with the Diada (Day of Catalunya) and a demonstration marking the independence stamp.
Yesterday the president of the Calatan government Artur Mas, recalled that the first law of the regional parliament established 35 years ago September 11 as the Feast of Catalonya, and that he hoped to recover the Catalan nation.
In an institutional message, Mas said that for four years the National Day is celebrated with demonstrations in favor of independence and considered the voice of the citizens should be heard, persistent and consistent, which has become in an urgent claim.
No institutional representative, no Democrat can ignore this peaceful clamor and has the responsibility to find a way so this can be expressed democratically. It is, therefore, the democratic mandate the one to mark the future of the nation, he said.
succeeded in bolstering support for Alexis Tsipras's left-wing Syriza party. Strategists are worried that a visit by someone such as Merkel or Cameron to Catalonia might have a similar effect there.
Read the timeline of Catalonia's bid for independence by clicking the link > HERE <