Spain's Sabadell eyeing bid for Northern Rock assets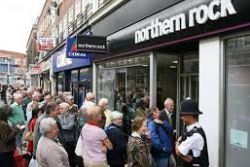 Spain's Sabadell is studying making a bid for 18-billion-euro mortgage asset portfolios from British nationalised bank Northern Rock and Bradford & Bingley, financial newspaper Expansion said on Monday.
The Spanish bank is the favourite to win the bid for the assets, valued at around 400 million pounds, the newspaper said citing unnamed financial sector sources.
The acquisition will be financed by capital from British lender TSB, recently acquired by Sabadell, according to the sources, the paper said.
No one from the Spanish bank was immediately available for comment on the report.
Recommended Reading :
* Spanish Banks overseas push reflects doubts on recovery at home
* Sabadell given EU clearance for TSB acquisition