Movistar Spain to sell FiLip Smartwatch for EUR 135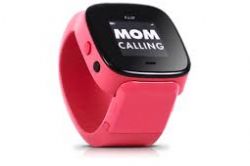 Movistar (Telefonica) has announced that it will begin selling the child-tracking FiLip smartwatch in Spain on 18 September at a price of EUR 135 for the device plus EUR 12 per month for 150 minutes of calls and 50 MB of data.
Designed for children aged 4 to 11, FiLIP combines GPS, Wi-Fi, and GSM technologies into a colourful watch that can be worn to school, the playground and everywhere in between, said Telefonica. The device comes with location tracking, voice calling, and direct messaging to children via an app on the parents' smartphone, on which five trusted contacts can be stored.
FiLIP also allows parents to set SafeZones, triggering notifications if the child enters or leaves designated areas. In addition, FiLIP features an emergency button that, when pressed by the child, activates an intelligent emergency procedure to locate the child and call each of the pre-determined emergency contacts until one is successfully connected.
The first version of FiLIP was launched in the US in 2013, followed in November by FiLIP 2, available on AT&T at a start price of USD 99.99. Telefonica signed an agreement with FiLip Technologies in March to bring the smartwatch to Latin America and other European markets.
Recommended Reading :
* Lycamobile Spain launches unlimited European calls plan