Banks warn they may leave Catalonia if it breaks away from Spain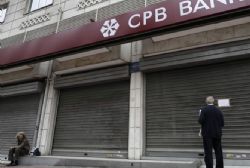 Spanish commercial and savings banks on Friday warned that they might consider leaving Catalonia altogether if the region breaks away from Spain.
In a joint statement, the Spanish Bank Association (AEB) and the Savings Banks Association (CECA) – whose members include major lenders Caixabank, Sabadell, Santander and BBVA – asked for "reforms" to keep Catalonia a part of Spain.
The demand mirrors a similar petition made on Friday morning by the business association Círculo de Empresarios, which asked for constitutional reform and an overhaul of the Catalan financing system to ensure the region does not go it alone.
With nine days to go before Catalonia holds regional elections that are being cast by secessionists as a make-or-break vote on independence, a growing chorus of voices is joining the public debate on the pros and cons of such a move.
In their statement, bankers caution against "the risks to financial stability of any political decision that would break current legality and exclude a part of Spain from the European Union and the euro zone."
The message also underscores "the legal insecurity" that lenders would face in a scenario of secession.
"These difficulties would force financial institutions to reconsider their implantation strategy, with the resulting risk of a reduced banking offer, leading in turn to financial exclusion as well as to more expensive, reduced credit."
In recent weeks, Catalan bankers and business leaders have expressed a majority opinion against secession from Spain.
While a group of 200 entrepreneurs supported the right to decide at a public event earlier this month, opposition to the secessionist drive has been the norm in Catalonia's business circles.
Recommended Reading :
* 1Mln Catalans still undecided about Spanish Independence
* Cameron warns Catalonia that independence means leaving EU