Spain newspaper polls give Catalonia separatists slight lead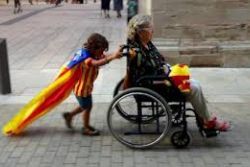 Catalan separatists are on track to win a small majority of seats in the Catalan Parliament next week, three polls in Spanish newspapers showed on Sunday, possibly paving the way for a declaration of independence.
Catalan President Artur Mas has called the Sept. 27 election a proxy vote on the wealthy northeastern region's separation from the rest of Spain after Madrid blocked an attempt at a referendum on independence last year.
The three separate polls for El Pais, La Vanguardia and ABC newspapers show the main pro-independence movement Junts pel Si winning between 63 and 67 seats, or around 41 percent of the vote, just shy of a absolute parliamentary majority.
Mas has said that a separatist majority of at least 68 seats in the 135-member Catalan parliament is the minimum needed to launch a "road map" to secession within 18 months.
While the polls put Junts pel Si just out of reach of that majority, adding the votes of the more radical left-wing CUP could give the secessionists near 50 percent of the vote with over 70 seats in Parliament.
All the polls gave a wider margin to the Junts pel Si camp than an official opinion poll published Sept. 10, which saw the pro-independence group taking 60-61 seats.
A Feedback poll for La Vanguardia gave the group 63-65 seats, while a Metroscopia survey in El Pais saw them winning 66-67 seats and the GAD3 research in ABC predicted 65-67 seats. The three papers saw CUP winning from 7 to 11 seats.
Failure to win an absolute majority in the election would be serious blow for the separatist cause, which has faced strong opposition from Madrid, which flatly denies Catalonia the right to secession, and from banks and business leaders.
On Friday, major Spanish banks said a split would be a serious threat to financial stability in the region. The head of Catalan drug maker Almirall warned in a video to his employees that independence would hurt the business.
"The debate has an extremely emotional element and it believe lacks a great deal of real and concrete information on the economic consequences of what they are planning," BBVA President Francisco Gonzalez said in an interview with news agency EFE published on Sunday.
Meanwhile, sources from the government sports body CSD told El Pais on Sunday that the Barcelona football club would not be permitted to play in the Spanish league if the region separated from Spain.
Recommended Reading :
* 1 Mln Catalans still undecided still undecided about Spanish Independence
* Banks warn they may leave Catalonia if it breaks away from Spain