Madrid court freezes assets of former IMF chief Rato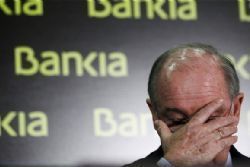 A Madrid court investigating former IMF chief Rodrigo Rato for alleged tax fraud on Thursday said it had frozen some of his assets after he failed to deposit funds to cover possible liabilities.
The court said in a statement it had frozen EU18 Mln worth of Rato's assets, including his IMF pension. It did not say how much this amounted to.
Rato, a former deputy PM and heavyweight in the centre-right PP now in government, has been caught up in several judicial probes in recent years.
The cases, which include investigations into his time at lender Bankia, where he was chairman, made Rato a target of public anger during a deep economic crisis.
His links to the PP have also caused headaches for its current leaders, just as the government, damaged by party corruption scandals, faces a general election by year-end.
The tax fraud and money-laundering investigation centres on Rato's personal wealth. Spain's High Court is also probing allegations that the 2011 flotation of Bankia, which took place under Rato's watch, was flawed. Bankia had to be bailed out by the state less than a year later.
In another case, magistrates are looking into the alleged misuse of company credit cards for personal expenses during Rato's tenure at the bank.
Rato has denied any wrongdoing in the cases. None of the investigations have yet gone to trial.
Recommended Reading :
* Bankers encouraged to use black credit cards
* Judge sets EU800 Mln civil bond for former chiefs at Bankia