Spain to open first single-track high-speed line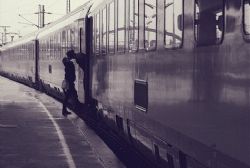 The Spanish Ministry of Public Works and Transport confirmed this week that the 162.7km Valladolid - Palencia - León high-speed line will be officially inaugurated on September 29.
Renfe published the timetable for the route on September 24, revealing that the fastest services will link León and Madrid in 2h 6min, a 44-minute improvement compared with the current journey time.
Tickets have also gone on sale with fares starting at around €20, and are expected to remain at that level for the initial three months, as the line will initially operate at with trains running at a maximum speed of 200km/h because ETCS has not yet been commissioned.
A build-maintain contract to equip the Valladolid - León and the Valladolid - Burgos high-speed lines with ETCS Level 2 was awarded to an Alstom-Bombardier-Indra consortium in March 2014, with a delivery time of 24 months. When ETCS is commissioned, the maximum speed will rise to 300km/h.
This will be the first of several high-speed lines in Spain which will open with only a single track installed - despite being designed and built for double track - in a bid to minimise construction and maintenance costs on those routes in where demand will be well below capacity.
The line is double track between Valladolid, Venta de Baños and the outskirts of Palencia, but around half of the 110km stretch from Palencia to León will be single track.
The line will extend the Spanish high capacity network further to the northwest of the Iberian Peninsula from its current terminus in Valladolid, and will provide shorter travel times not only from Madrid to Palencia and León, but also to destinations in Asturias currently served by variable-gauge Alvia trains, which will use the new line.
Recommended Reading :
* Spain announces EU12.6 Bln suburban rail spend
* None of Spain's AVE high speed rail lines profitable