Paramount Murcia Developer Closes Offices in Alhama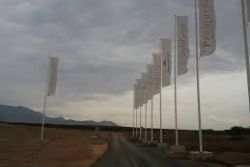 Proyectos Emblemáticos Murcianos S.A. (PREMURSA) - the promoter and developer of the Paramount Pictures theme park project at Alhama de Murcia, have announced they will close their Offices situated on the outskirts of the town at the end of the month.
The facility, which opened 4 years ago, was the place where thousands of people submitted their applications to work in the park, but in recent months, the movement of visitors had fallen drastically, according to workers on the industrial park alongside the offices.
The Socialist Mayor of the Town, Diego Conesa, confirmed the news and said that the future of the park is currently a "hot Potato in the hands of Premursa".
Conesa also claimed the Ayuntamiento was still awaiting the submission of a number of documents before permits could be granted to complete a number of the planned infrastructure projects required for the site.
The Mayor went on to say how that a few weeks ago he received a call from Jesus Samper, agreeing to meet on his next visit to the site - something which has yet to happen.
Conesa also made it clear that the City needs warranties and guarantees for Paramount, as with any other project and that "The government team wants legal certainty and transparency, and equal treatment of all business projects."
In a statement, Premursa confirmed the closure of the offices, and reminded the public and press that all inquiries should be directed to their head office in Madrid.
Recommended Reading :
* Premursa to open office to process Paramount Murcia applications
* Paramount Murcia developer denies bankruptcy