More routes to Spain's Castellon Airport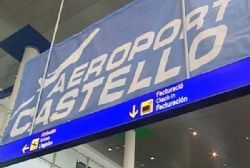 Javier Moliner announced yesterday that, "in all probability", that Airline Blue Air will announce "shortly" the dates for the launch of flights between Castellon Airport and Romania.
The president of Castellon spoke to acknowledge the announcement that talks are underway between that company and SNC-Lavalin to begin regular flights to Bucharest in 2016.
Whilst the airline has announced this intention on their website, it has yet to list either dates or costs.
Moliner also conceded that "It's not easy to convince someone to operate flights where no one works. So we knew that Ryanair would be the great catalyst to generate interest from other Airlines."
Recommended Reading :
* First tourists arrive at Spain's Castellon Airport
* Brussels to investigate subsidies at Castellon Airport