Spain working on Ireland-Andalucia new flight routes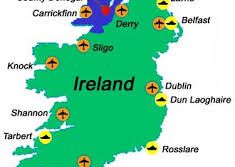 Spanish public officials are working towards the addition of new flight routes from Ireland to the southern province of Andalucia, the region's minister for tourism and sport has announced.
Francisco Javier Fernandez made the announcement yesterday at a press conference in Jerez, held to coincide with the annual conference of the Irish Travel Agents Association (ITAA).
The Andalucian Tourism Board plans to host events in both Spain and Ireland in 2016 to market the region in the hope that it can draw on the growing number of Irish holidaymakers visiting the country.
Figures from the Central Statistics Office show that last year more Irish tourists visited Spain than France, Italy, and Portugal combined. It is predicted that approximately 1.4m passengers will fly from Ireland to Spain this year.
Gonzalo Ceballos, director of the Spanish Tourism Office in Ireland, said the millionth visitor arrived in the first week of September.
"There were over a million Irish tourists visiting Spain, maybe a quarter of those will come to Andalucia. That means, as we are speaking today, that over 300,000 Irish have travelled to Andalucia," he said.
However, while Andalucia is second only to the Canary Islands in popularity with Irish tourists, Malaga is the only city in the region with flights to and from Ireland, meaning that locations such as Jerez, Seville, and Granada are not feeling as much benefit from the large number of travelling Irish.
Officials and the local tourist board hope that by marketing the wider region, demand in turn will lead to the creation of routes from Ireland to other cities in Andalucia. For their part, ITAA members are hopeful that they can capitalise on any new demand by offering packages to the wider region.
ITAA CEO Pat Dawson said 80% of Irish travel agents' work is in 'dynamic packaging' of complete holiday itineraries and the industry is adapting to a changing environment where the majority of flights and rooms are now booked direct from source online.
"In 2007 we had 1.1m charter seats out of Ireland to all parts of the world. That's now gone down to 200,000 seats this year," Mr Dawson said. "The reason being that low-cost carriers, Aer Lingus and Ryanair in particular, have replaced many tour operators in Ireland. There's been a huge change," he said.
Addressing more than 100 ITAA delegates, Stephen McKenna, CEO of Atlas Travel Group and GoHop.ie told the conference that while many see the internet as a threat to travel agents, it can provide opportunity.
"There are thousands of results on Google for every search," he said. "Busy people do not want to trawl thousands of results, websites, and reviews to book their holiday. This is where people value a good, experienced specialist travel agent who can cut through the clutter and deliver a hassle- free service."
Recommended Reading :
* More Irish robbed in Spain than any other foreign country
* Jet2 drops San Javier - Murcia to Edinburgh route