Happy Anniversary Paramount Murcia !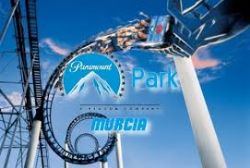 This week marks the 4th anniversary of the first official presentation by Proyectos Emblemáticos Murcianos (PREMURSA) concerning their plans for the Paramount Pictures theme park project.
The bullshit was staggering.
Not only were an estimated 22,600 jobs promised (16,500 during the construction phase and 6,100 for the operation), but the official statement to the press even had the temerity to state their intention to build on a developed plot size of some 1,580,000 square meters - land, which was proved they did not actually legally own, in later months.
The statement to the press of 4th October 2011 - which, unbelievably is still live on the official website of Premursa - also goes on to state how the park (which will open in 2014), will benefit from good connections to the AVE high speed train line which will connect the city of Murcia to Madrid.
Fast forward 12 Months and Officials even had the brass-neck and self-belief to actually promote both Corvera Airport and Paramount Murcia at the World Tourism fair.
With last weeks' news that Premursa had finally closed their local offices in Alhama de Murcia and retreated to the safe anonymity of their offices in Madrid, followed by their staunch denial of bankruptcy rumours earlier on in the year, the question must be this : Is there anybody out there who actually believes that the park will ever open ?
Read the entire timeline of Paramount Murcia News articles by clicking the link >> HERE <<.