Spain, Morocco arrest suspected Islamic State recruiters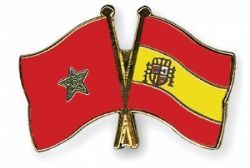 Spain said it and Morocco arrested 10 people on Sunday suspected of recruiting fighters for Islamic State in Syria and Iraq.
Suspects were detained in the Spanish cities of Toledo and Badalona, the small coastal town of Xeraco in Spain's Valencia region and the Moroccan city of Casablanca, Spain's interior ministry said.
"Those arrested belong to a network of people that recruited, indoctrinated and sent foreign fighters to join Daesh," it added, using a name for Islamic State.
Spain and Morocco, as well as other countries in Europe and North Africa, have been stepping up efforts to stop citizens joining Islamic State, fearing they could return to launch attacks at home.
By the end of September, Spain had been involved in the arrest of 71 suspected Islamic militants at home and abroad, up from 46 in the whole of 2014, according to interior ministry figures.
Recommended Reading :
* Spain arrests man accused of recruiting for ISIL
* Spain fears Jihadists may enter country alongside asylum seekers