Spain's 2016 draft budget at risk of breaking EU rules-EU Commission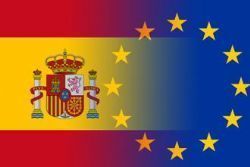 Spain's budget in 2015 and the draft budget for 2016 are at risk of breaking EU fiscal rules and will need to be revised, the European commissioner for economic affairs said on Monday.
"The Commission's assessment confirms the risk of non-compliance with the pact in both 2015 and 2016," Commissioner Pierre Moscovici told a news conference in Luxembourg after a meeting of euro zone finance ministers.
The Commission estimates that Spain will miss its fiscal targets both in 2015 and 2016 and wants the Spanish authorities to present a revised budget.
An extraordinary meeting of European finance ministers is scheduled on November 23 to discuss national budgets of the countries sharing the euro.
Recommended Reading :
* Spain sets December 20th for General Election
* Spain "Is best example that Europe is doing things right" : Schaeuble