Spain ranks as 7th 'rich' country with least confidence in Politicians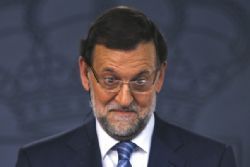 The World Economic Forum's recently-released Global Competitiveness Survey doesn't just look at the financial health and risks of countries around the world, it also offers some pretty interesting insights into the psyche of nations.
One of these is how much the public trusts its politicians.
The WEF used its executive opinion survey to ask "in your country, how do you rate the ethical standards of politicians?"
A score of 1 equates to "extremely low" while a rating of 7 is "extremely high."
The measure is therefore based on the perceptions of the population. Absolutely no country scored a 7, although Singapore topped the rankings with 6.2. Britain did pretty well with 4.5 , and the United States came at 48th with 3.4.
We looked only at the 34 OECD (Organisation for Economic Co-operation and Development) countries, which are all considered relatively developed economies with democratic systems.
13. Turkey: 3.1. The country's politicians are just as famous for brawling in parliament as they are for being dogged by corruption. A scandal in 2013 is still rumbling on after police raided several homes of the ruling elite and found millions of dollars in cash, allegedly used for bribery.
12. Portugal: 3.0. Within the last year, a corruption scandal led to the resignation of the Internal Administration Minister Miguel Macedo. It was related to fast-tracked​ visas for foreign investors.
11. Israel: 2.8. The public's distrust in its politicians stems from a long history of belief that the institution operates on nepotism. According to Transparency International reports, over 80% of the public believe personal contacts are important or very important for getting things done in the public sector.
10 (joint). South Korea: 2.4. Like most countries that rank top of the list, South Koreans don't have much trust in the government due to corruption scandals. In April, the former Prime Minister Lee Wan-Koo resigned and was indicted two months later on corruption charges.
10 (joint). Poland: 2.4. The government has done a lot over recent years to try and stamp out corruption. Through a combination of law enforcement action and political will, it has become a better place to do business. However, according to a Special Eurobarometer report, a quarter of citizens think that corruption affects their daily lives.
8. Greece: 2.3. Syriza's left-wing government led by Alexis Tsipras may have won re-election in September, but the public are still unsure about whether politicians are able to secure a better deal for the beleaguered country.
7 (joint). Hungary: 2.2. Prime Minister Viktor Orban's ruling party lost a lot of trust after the EU suspended payments to Hungary over suspected corruption in awarding contracts. In April this year, thousands of people across 50 Hungarian cities marched in protest against the government.
7 (joint). Mexico: 2.2.The scandal surrounding 43 students who disappeared on the night of September 26 last year highlights why the public distrust the government so much. Only two bodies have been recovered since the government admitted that they were abducted on the orders of the mayor, José Luis Abarca Velázquez, because they posed a risk of disrupting an event.
7 (joint). Spain: 2.2. Prime Minister Mariano Rajoy's government is embroiled in "a network of corruption" scandal that involved contracts worth roughly €250 million (£197 million). 51 people were arrested in 2014 and the government has battled to win back trust ever since.
4. Slovakia: 2.1. Bribery is still seen as rife within the government and adds to one of the worst trust ratings in the OECD. The British government even warns potential investors in the country that "corruption in Slovakia exists especially in public procurement, healthcare, education and law enforcement."
3. Slovenia: 1.9. The country is still struggling with its transition from Communism 20 years' ago. A decline in the management of public spending and well as perceived corruption still damages labour and monetary freedom.
1 (joint). Czech Republic: 1.7. Citizens deeply distrust the government, with allegations of bribery and improper business relations led to demands for the resignation of Prime Minister Petr Necas.
1 (joint). Italy: 1.7. Corruption and sex scandals have dominated Italian politics for decades. Silvio Berlusconi served as Prime Minister three times and was famous for throwing sex parties known as "bunga bunga parties." His reputation for alleged dodgy business practices also severely damaged the public's trust in the government.
Recommended Reading :
* Judge probing corruption in Spain's ruling party 'loses' key documents
* Rajoy : "There is no such thing as generalised corruption in Spain