Spain's Santander 'Sought to delay news of fine'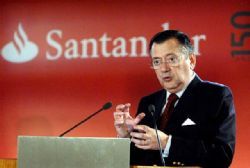 Santander was fined EU 1 Mln in June for breaching laws on preventing money laundering and terrorism financing, a Spanish court said on Wednesday, adding the bank had sought to delay news of the sanction getting out.
Spanish cabinet ministers approved the fine in June, the country's Supreme Court said in a court filing. It did not specify which rules the bank had been found to breach, but said the sanction was linked to a very serious offence.
Santander had no immediate comment.
The court said it had rejected Santander's request to delay publication of the fine. Such sanctions are usually published in an official state bulletin, although this one had not yet appeared.
Santander, the euro zone's biggest bank by market value, is appealing against the fine, and had argued that the process should be concluded before news of any sanction was revealed.
According to the court filing, Santander said the news could hurt its image in the eyes of clients and markets and that there was no reason to publish it immediately. It requested that alternatively, news of its appeal should also be made public if the sanction was revealed in the state bulletin.
The court said it had rejected the bank's request for a delay because announcing the sanction was in the public interest.A crackdown by regulators worldwide has pushed banks to tighten procedures to deal with money laundering and other crimes in recent years, forcing many to review internal controls and open up more to inspections.
Recommended Reading :
* Spain passes law against double charges at bank ATMs
* Santander's Q1 profit jumps 32%