Spain underscores "solvency" of BBVA & Santanderamid emerging market woes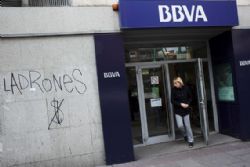 Spanish Economy and Competitiveness Minister Luis de Guindos on Saturday stressed the "solvency" of Spain's two largest banks - BBVA and Santander - and said they were well-prepared to cope with the deceleration in Latin America and other emerging markets.
"Emerging-market deceleration can have an impact ... but BBVA and Santander are well-capitalized banks with a high level of solvency," De Guindos said at a press conference at the end of his participation in the Annual Meetings of the World Bank Group and the International Monetary Fund in Lima.
The minister was responding to doubts raised by the IMF, which in one of its reports warned about financial vulnerability in emerging markets within a context of imminent interest-rate hikes in the United States and outflows of capital from those countries.
BBVA and Santander are "diversifying geographically and that's good; risk dispersion is a positive factor ... throughout the cycle, clearly you always go through better and worse situations, but this diversification raises value and makes them more resistant," De Guindos added.
He also stressed that one of the specific elements of "differential growth" in Spain, whose economy is projected to expand 3.1 percent in 2015, "double that of the euro zone," is the bank restructuring undertaken in recent years within Spain's financial system.
"These two large banks contribute to Spain's financial stability," the minister said.
He added that he was convinced Latin America was in a more solid position than in previous downturns and fully able to overcome its short-term difficulties.
Latin America will shrink 0.3% this year due in large part to a 3% contraction by Brazil, the region's largest economy and a country in which both BBVA and Santander have a presence.
Recommended Reading :
* Spain's Santander sought to delay news of fine
* Spain passes law against double chrges at Banks ATMs