Government appeals for unity on October 12 national holiday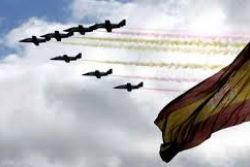 Spain's King Felipe VI presided over his second military parade as monarch to celebrate the October 12 National Holiday on Monday morning in central Madrid. The military parade, which ran through the capital's Castellana boulevard, featured 3,500 members of the armed forces and Civil Guard, up 400 on last year, along with a drive past of 48 vehicles and a flyby of 53 aircraft.
The parade began at 11am close to Atocha railway station, pausing at the Monument to the Fallen with a wreath-laying ceremony, and ending an hour later with a flyby by a display team that left a smoke trail in the red and yellow of the Spanish flag above Colon square.
At a time of mounting tension over demands from the Catalan regional government for independence, the government of Prime Minister Mariano Rajoy sought to use the occasion to reaffirm national unity, promoting it as "The day for everybody."
But a number of Spanish politicians decided not to attend the event, including Pablo Iglesias, leader of the left-leaning anti-austerity Podemos party, along with the heads of the regional governments of Navarre, the Basque Country and Catalonia, all of which have waged long-running campaigns for independence from Spain.
King Felipe was accompanied by Queen Leticia and their two daughters, Leonor and Sofía.
Taking part in the flyby were aircraft used by the Spanish armed forces during humanitarian missions in West Africa to help tackle the ebola epidemic, as well as in Nepal.
For the first time, the NATO flag was also carried during the parade. Spain will be hosting the Trident Juncture maneuvers later this year, NATO's largest ever military training exercise.
The cost of the event was €800,000, excluding the flyby. Following the parade, King Felipe and Queen Leticia held the traditional reception at the Royal Palace, where some 2,000 guests were expected.
Recommended Reading :
* Dia de Hispanidad : October 12th
* Franco-ists denied entry to Catalonia on Dia Hispanidad