Spain's economy making progress but imbalances still substantial - ECB, Commission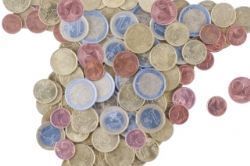 Spain's economic recovery has picked up pace, accompanied by strong job creation, but unemployment remains high and financial imbalances, dating to the pre-crisis years, are still substantial, the European Central Bank and the European Commission said on Monday.
"Overall, past structural reforms, bank recapitalisation and supportive financial conditions are increasingly reflected in the stabilisation of the financial sector, a strong economic recovery and low sovereign risk premia," the ECB said following the fourth review of Spain's now concluded bailout programme.
"Nonetheless, significant challenges remain. Sound public finances and sustained reform efforts are paramount to sustain the recovery, further rebalance the economy and maintain low risk premia going forward," it added.
Recommended Reading :
* Spain managing to hold off impact of global slowdown : IMF
* Spain risks missing 2015 & 2016 deficit targets : Brussels report