Spain to meet 2015 deficit target: economy minister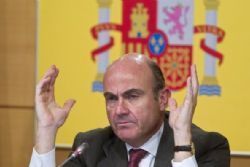 Spanish Economy Minister Luis de Guindos said on Wednesday that he did not have any doubt that Spain would meet 2015 and 2016 deficit target.
De Guindos made this statement at the government control session held at the Spanish parliament on Wednesday, where he also assured that if the main opposition party, the Socialists, won the elections on Dec. 20, Spain's credibility would be lost.
"Spain will meet the deficit target this year," de Guindos pointed out when asked about the recent comments by the EU that asked Spain for more reforms in order to meet the deficit: 4.2% this year and 2.8% in 2016.
"Our credibility is based on the fact that we are the economy that is growing most in the eurozone among the biggest economies for 2 reasons: competitiveness and the recovery of the credit," de Guindos pointed out.
Also on Tuesday de Guindos assured that the country would meet the deficit target, adding that the government would not modify the budget for 2016.
The minister recognized that the deficit of Spanish regions would surpass the limit but this would be compensated by an increase in income, savings in the debt's interests and the decrease of spending on unemployment benefits.
Recommended Reading :
* Spain risks missing 2015 and 2016 deficit targets : Brussel report
* Brussels raises 2015 growth forecast for Spain to 2.3%