Spain's Tourism Enjoys Best Summer in 10 Years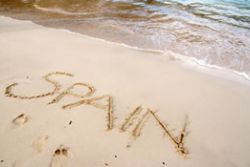 2015 summer, from July to September, was the best summer in 10 years for Spain's tourism, according to Exceltur, the association that encompasses big companies of the sector in Spain.
Local media in Spain last week quoted Exceltur executives as saying that that the sector performance between July and September was "excellent", highlighting that the activity had risen by 3.7% during the period when compared with a year earlier.
Exceltur emphasised that domestic tourism rose this summer, recovering the demand that had sharply fallen because of the economic crisis. In July and August, Spaniards' overnight stays rose by 6.2% and consumption increased by 5%, recovering pre-crisis levels.
On the other hand, there were 72,762 people more affiliated to the social security system working in the tourist sector when compared with the same period in 2014 and companies said that both sales and benefits had risen.
People working in the hotel industry sector rose by 58,890, those working in the accommodation sector rose by 12,203, while those working in entertainment, travel agencies and air transport increased by 9,942 workers, 1,669 and 916 respectively.
Spain expects to receive a record high of 68 million international tourists this year.
In this sense, Exceltur pointed out that Spain continued to benefit from the political instability suffered by countries in the north of Africa, highlighting increases of arrivals from Britain, France and Belgium. On the other hand, arrivals from Russia have significantly fallen.
Tourism accounts for around 11% of Spain's GDP and according to Ramon Estalella, from the Spanish Confederation of Hotels and Tourist Accommodation, it is the first and largest employer of Spain.
Spain is the 3rd most visited country in the world after the United States and France and is the 2nd country where tourists spend more money.
Recommended Reading :
* Ryanair launch Newcastle - Spain flights
* New flights from Leeds-Bradford to Spain