Rajoy officially dissolves parliament for December 20 general election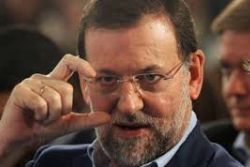 PM Mariano Rajoy on Monday sidestepped questions about his political future after signing a resolution formally dissolving parliament ahead of December's general election.
In comments to reporters after giving a progress report on the achievements of his PP administration, Rajoy declined to speculate on any plans to form a coalition government with the emerging conservative group Ciudadanos, which has gained strength since the regional and municipal elections in May.
"We will govern according to what the citizens say. That is my offer," he said, adding that he did not believe in trying to hold on to the PM's office if the PP did not win an absolute majority in parliament.
The resolution he signed – approved during a special Cabinet meeting on Monday – officially paves the way for a general election to be held on December 20, a date Rajoy had announced during an interview with Antena 3 television network earlier this month.
Recent polls show that no party, including the PP, will win enough seats in Congress to form a government without the support of other political groupings. The PP currently holds 186 seats in the 350-member chamber.
But tensions are rising between the opponents.
Albert Rivera, the charismatic leader of Ciudadanos, has stated that he will demand Rajoy's political head if it comes down to the PP and his own party holding discussions about forming a coalition.
When asked about these statements, the prime minister jokingly responded: "My head is well-placed and I am not going to let anyone remove it from where it is."
This year, voters will have more options to choose from as new parties, including the left-leaning Podemos, enter the national race and challenge Spain's traditional bipartisan system for the first time since democracy was restored in the 1970s.
Asked if he was prepared to take emergency measures if the situation flared up while parliament was out of session, the prime minister admitted that he did have a plan.
"Yes, I have some plans – including those that you are thinking about – because that is my duty as a prime minister. Nevertheless in any case, I hope we do not have to take any such action," he said.
Under the Constitution, the central government could suspend a region's powers "in order to compel" it to "fulfill the obligations imposed upon it by the Constitution or other laws." However, prior approval by the Senate would be necessary.
Rajoy explained that he would look at the other parties' campaign platforms – including that of Socialist leader Pedro Sánchez, who has called for constitutional reform – before deciding whether he will side with any of the opposition's proposals for Catalonia.
The PP's own campaign will tout "jobs, growth and confidence," he said.
Rajoy reiterated that he was prepared to hold talks with Mas to find a way out of the crisis, but said that Spain's future, including that of Catalonia, could only be decided by the nation as a whole.
"I have complied with my duties in defending the law, proportionately and with prudence. I have never rejected dialogue and I will never reject speaking to anyone. Ask of me what you want, but don't ask me to abolish the laws because I will never do so."
Recommended Reading :
* Rajoy : "2015 will be the year that the economy definitively takes off"
* Rajoy's anti-corruption measures : 2 Years of Nada