Spain's vehicle production up 26.78 pct in September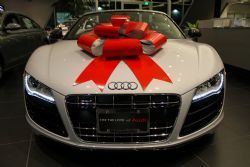 The number of vehicles manufactured in Spain in September rose by 26.78% to a total of 272,521 vehicles, data from the Association of Car Manufacturers (ANFAC) showed on Monday.
Factories of vehicles produced 9,000 vehicles a day, which was the largest figure for a month since April 2008, according to the data.
In September the number of private cars produced reached 217,068 unities, up by 23.91% when compared with a year earlier, while the number of commercial vehicles rose by 42.36% to 55,299 unities.
ANFAC said in the first nine months of the year, the number of vehicles manufactured reached 2,058,229, meaning a 14.64% increase when compared with the same period of a year earlier.
Production of private cars rose by 19.89% in the first 9 months of the year to 1,653,280 unities when compared with the same period of a year earlier and commercial and industrial cars production fell by 0.75% to 391,031 unities.
The sector predicted they would produce 2.6 million unities in 2015 and the figure would reach 3 million in 2017.
Recommended Reading :
* Spain's DGT plans compulsory licences for Bikes
* SEAT admits manufacturing 700'000 cars with VW's rigged engines