Brit Dies in Spanish Police Custody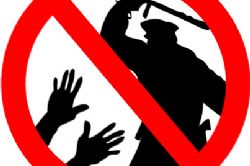 A British father has died after being arrested for being rowdy while on holiday in Spain and placed in a police cell.
Anthony Abbott was found dead in his cell Benidorm after police were called to his hotel after he had spent a night drinking.
The 36-year-old had been due to fly home to Bolton, Manchester, two days later after a holiday at the Hotel Palm Beach with his partner of nine years .
Miss Corless, 28, said her partner had been led away by police around 1am but she had decided to stay at the hotel with the children. Two hours later, police returned to the hotel to tell her Mr Abbott had died.
She said: 'I saw him being taken off. He turned to me and said "I'm sorry, I will see you soon, I love you". He was on holiday and can be a bit of show off when he's had a drink. He was arrested for being rowdy.
'We are just devastated. We are being told different stories about when he was found. He was taken to the police station at 1.45am and we are being told he was found dead at 2am and 2.15am. When I went to identify the body on Saturday, he had bruises all over his head.
'We need answers to what happened. I am not being told anything. He died within 15 minutes of being taken to the police station.'
The Foreign and Commonwealth Office confirmed the death and the family are in contact with their local MP to get answers.
A spokesman from the Foreign and Commonwealth Office said: 'We are in contact with local authorities and are providing support to the family of a British National on October 23rd.
Mr Abbott's body will be flown home next week.
Recommended Reading :
* Spain's new citizen safety law slammed by Amnesty
* Woman fined under Spain's 'gag law' after posting pic of Cop parked in handicapped spot