Spain's stock exchange set for upheaval a reforms loom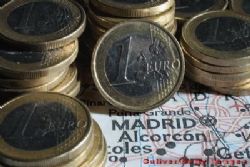 Spain's stock market is facing its biggest upheaval in years as a looming reform of the way securities are cleared and settled threatens to ramp up competitive pressures on market operator BME even as it paves the way for more trading activity.
The reforms include the deceptively simple step of changing settlement times from three days to two, which will bring Madrid into line with the rest of Europe and decrease counterparty risk for investors, who need to have cash parked as collateral until a trade is settled.
While a good thing for investor confidence, it is seen further eroding the grip of 184-year-old Bolsas y Mercados Espaņoles (BME), due to report results on Friday, which has enjoyed one of the most dominant home-market positions in Europe and still has the highest market share of top European trading capitals.
"The reforms will likely increase competition and lead to both price pressure and an ongoing loss of market share at BME," said RBC Capital analyst Peter Lenardos, who rates the stock "underperform".
"BME is a good company with fantastic operating profit margins, but we believe they have enjoyed their protected status for too long."
One of the main features of the reform which affects the whole post-trade chain is the introduction of a central counterparty clearing house (CCP) for equities operated by the BME.
This would allow netting trades for the first time, making settlement cheaper and more efficient, and levelling the playing field for alternative exchange operators, which now go through different settlement processing.
"The reform is the single biggest event that has occurred in the Spanish capital markets since the late eighties," said James Foster, manager at BNP Paribas securities services in Madrid, who is helping bank and broker clients manage the transition.
"It's expected to make Spanish markets more efficient, less risky and possibly cheaper."
INCREASED TRADING
For now, BME sees a silver lining, arguing it would be able to access increased trading flows without any big impact on its market share.
"The CCP will be beneficial to some participants who need it to do netting, and besides it will also attract more high-frequency traders to the market and therefore more activity," a BME spokesman said in an email.
High-frequency trading, which uses algorithms to make a large number of trades at very high speeds, has risen in recent years, boosting trading volumes, though regulators have sounded alarm over a practice blamed for a number of steep market drops know as "flash crashes".
BME has still a home market share in Spain of nearly 74%, according to the latest data by Fidessa, much higher than incumbent exchanges in other European capitals with the exception of Italy. The London Stock Exchange has 55%and Deutsche Boerse has 59%.
The go-live date of the long-awaited reform has been moved to February from October because of a legislative delay and, according to a bank consultant who declined to be named, to give more time for testing and ensure stability of the new system, as banks and brokers need to overhaul their back offices.
Rival exchange BATS Chi-X Europe, which has steadily eaten into the market share of other national bourses, senses an opportunity.
"The mere fact some of the post-trade processes are made more efficient will help the overall volumes in Spanish securities and there will be more customers able to trade directly with us," BATS Chi-X Europe CEO Mark Hemsley told Reuters in a phone interview. "Customers want exchanges to work in a standardised way".
RBC Capital's Lenardos said he saw little reason to own BME at the current level, as investors await more clarity from Spain's national election due in December and recurring talk of a EU financial transaction tax.
Of the 18 analyst covering BME, 10 have a "sell" or "hold" rating and the rest have either a "buy" or "strong buy".
Recommended Reading :
* Spain Bank fall on report EU wants loan interest returned
* Bank of Spain asked to investigate double ATM charges