Spanish PM agrees to reform Constitution if he wins re-election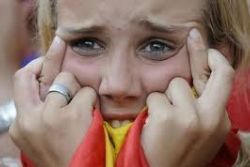 PM Mariano Rajoy will accept discussing reforms to Spain's 1978 Constitution if he wins a second term in office in the December 20 general election.
Speaking in the Navarrese capital of Pamplona on Thursday to renew the PP's alliance with the regional Navarrese People's Union (UPN) party, Rajoy made his first clear reference to constitutional change by promising to work to eliminate an item hypothetically allowing Navarre to merge with the Basque Country – a long-held dream of radical Basque nationalists.
Earlier in the week, Rajoy said that other possible changes would include specifying the official names of Spain's regions, setting down in the Constitution that EU legislation affects Spain, and altering the rules to the succession of the throne to ensure that male royals do not have precedence over females.
He also said that territorial issues would have to be addressed, without specifying which.
The decision represents a major shift in attitude for the Popular Party (PP) leader, who until recently had refused to consider the opposition's calls for constitutional reform.
It also comes at a time when Spain's laws are being challenged by Catalan separatists. On Monday, the latter will use their majority in the Catalan parliament to pass a motion declaring the beginning of the process to create an independent republic in the northeastern region.
This motion also calls for overt disobedience of Spain's Constitutional Court if it should rule against the independence process in any way.
Since then, Rajoy has been in talks with the heads of the main opposition parties to discuss ways of dealing with the challenge. At the meetings, Rajoy heard renewed demands to tweak a charter that marked Spain's transition from a dictatorship to a democracy.
For decades, the 1978 Constitution was viewed as virtually untouchable by all parties, as it was the result of political consensus following the death of Francisco Franco, and a symbol of national reconciliation. It has only been amended twice since then.
But the Socialist Party (PSOE) and the emerging Ciudadanos (C's) – which is now the second-largest force in the Catalan parliament and placing third in voting intention polls for the general election – believe that the time for real change has come.
Labor union leaders have also asked for a congressional session on constitutional reform, an idea that Rajoy now finds "sensible" and "necessary."
But Rajoy has pointed out ironically that his political adversaries all have varying approaches to constitutional reform: Podemos and United Left (IU), he said on Wednesday, want changes that would help break up Spain; Ciudadanos and Union, Progress and Democracy (UPyD) want to re-centralize power, while the Socialists support a loose state model that they have yet to explain in detail.
As for the PP, no specific changes to Spain's bill of rights have been included in its election program.
With voting intention polls showing his PP winning a narrow majority on December 20, Rajoy is aware that he will very probably need the support of a second party to pass legislation over the next four years. And all the opposition parties want to change the Constitution.
Recommended Reading :
* Rajoy officially dissolves parliament for Dec 20th general election
* Pace of growth in Spain slows as election nears