Spain's National Court Allows Police to Counter Sedition Attempts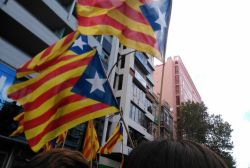 The Chief Prosecutor of the National Court of Spain, Javier Zaragoza, ruled on Tuesday that the National Police, Civil Guard and the Mossos d'Esquadra (Catalan police) may take appropriate action should "crimes against the form of government" take place in Catalonia.
Legal steps will be taken in cases of public calls for a change in the political system or the territorial structure of the Spanish state, or for proclaiming part of it independent. Convicted people will be sent to prison for a 10-15 years term.
On Monday, the Parliament of Catalonia passed a resolution to begin the process of seceding from Spain. The initiative was backed by 72 votes in the 135-strong parliament.
The process of gaining independence from Spain consists of forming a government and other state structures, as well as drawing up a constitution. Once a new constitution has been accepted, Catalonia can declare its independence. According to supporters of Catalonia's secession from Spain, the process should take approximately 18 months.
In late October, Spanish Prime Minister Mariano Rajoy said Madrid would use all political and legal means to prevent Catalan from gaining independence and asked the country's Constitutional Court to declare the Catalan motion unconstitutional.
Recommended Reading :
* Catalan parliament passes motion declaring start of secession process
* Spanish PM agrees to reform constitution if he wins re-election