Spain issues arrest warrant for Israeli PM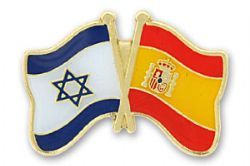 Israeli Prime Minister Benjamin Netanyahu has issued an arrest warrant in a criminal case conducted by Spanish judge José de la Mata alongside a number of other top-ranking Israeli officials. Netanyahu and his deputies can be arrested, and the judge will be notified if they set foot on Spanish soil.
Mata named the Prime Minister in connection with an Israeli Defense Force raid conducted in 2010 that left ten activists dead, none of whom were Spanish citizens (most were Turkish, one was American).
The detention request could lead to an arrest of Netanyahu for questioning in relation to the case. Israeli officials are trying to get Spain to retract the warrant. Israeli, foreign minister Emmanuel Nahsón rejected Mata's use of the arrest order.
"This is a political provocation. It's a systemic and cynical abuse of the Spanish legal system," he told EFE (his comments have been translated from Spanish).
Witnesses present during the 2010 flotilla killings say that some of their fellow activist were executed. Three Spanish citizens were also on board the ship, and filed a suit that was initially shot down. Mata has reopened the case.
The flotilla crew reportedly did not possess firearms, but attacked soldiers with bats and other improvised weapons when they attempted to board the ship. The flotilla, which included other boats with more passive activists, was attempting to deliver humanitarian supplies to Palestinians in Gaza.
"The Israeli embassy in Madrid is in touch with Spanish General Prosecutor in order to close the file as promptly as possible. We hope that this will be over soon," Nahsón told the Times of Israel.
Recommended Reading :
* Spain gives citizenship to thousands with Sephardic roots
* Israel vexed at Spain's move to recognise Palestinian state