Pensioner dies on Murcia - UK flight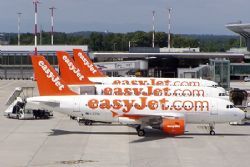 A 94-year-old woman died on a flight to Britain after being taken onto the plane in a wheelchair in a semi-conscious state, a fellow passenger has claimed.
The woman, who has not yet been named, stopped breathing less than half an hour into the flight from Murcia in Spain to London Gatwick Airport last week.
An emergency was declared by the crew while flying over France and they diverted to Toulouse-Blagnac Airport just 24 minutes after take-off, but she died despite attempts at resuscitation.
Now, a fellow passenger, who ended up helping to give the woman CPR, has claimed she spotted her semi-conscious in the terminal just moments before she was wheeled onto the aircraft.
And Clare Tellam, 50, of Sydenham, south-east London, who said the woman looked barely conscious before boarding, is questioning why the airline's staff deemed her fit to fly.
She said: 'In Murcia there was an old lady asleep in a wheelchair. EasyJet staff spoke to her before the flight but she wasn't fully conscious and I thought, "No way is that lady getting on our plane".
Ms Tellam had to move from her own seat while the elderly woman was assisted onto the plane, and claimed she was slipping in and out of consciousness - but was still strapped into her seat.
An off-duty easyJet crew member offered to sit next to her during the flight in case of an emergency evacuation.
A short time into the flight, Ms Tellam said she woke from a short sleep and saw the woman was turning blue and not breathing – claiming that this had not been noticed by any staff.
Ms Tellam, who instructs swimming teachers in CPR, joined a trained nurse and easyJet staff in performing CPR on the woman in the aisle between seats.
When the flight landed in Toulouse, French ambulance staff also spent a further 45 minutes trying to revive her.
Ms Tellam added: 'When I woke up I thought, "That lady is not breathing". To be honest, I think she had already died at that point.'
She is concerned that more could have been done to ensure the woman was safe to fly, although easyJet said its staff performed all checks and procedures to do so.
She added: 'To find her ID we went into her bag and she had a letter saying she had come out of a Spanish hospital on November 6 and was on diazepam.
'I don't know what information was shared between ground staff and the crew but she might still be alive if she didn't get that plane.
'There are a lot of issues that need to be sorted out. If they had put her in the front seat, the situation would have been noticed a lot quicker. This is because she would have fallen forward.
'The only reason she stayed in her seat was that she was next to the window and leaning against it.'
EasyJet has not yet confirmed the identity or nationality of the deceased woman following the incident on board flight EZY8552 on Monday of last week.
She added: 'Our ground staff followed all procedures and checks correctly ahead of boarding including consulting with her family at check in and ensuring the passenger had a valid fitness to fly certificate from her doctor. We are carrying out a review to ensure we have a full understanding of what happened and ensure we can learn lessons, if there are any.
'Our crew did all [that was] possible to save the life of the passenger, along with a nurse who was assisting onboard. EasyJet carries defibrillators on all of its aircraft and its crew are trained to administer the equipment as they did on this occasion.
'Sadly the passenger subsequently passed away and our thoughts are with the family and friends of the passenger.
The spokesman continued: 'The safety and wellbeing of our passengers and crew is always easyJet's highest priority and all of our crew are trained to evaluate and respond to all circumstances and administer first aid onboard, which they did.
'In line with our procedures, we are carrying out a review to ensure we have a full understanding of what happened and ensure we can learn lessons if there are any or make any improvements to our procedures and training.'
Recommended Reading :
* Podemos call for enquiry into Murcia's Corvera Airport
* Murcia's San Javier Airport : Not the best of legacies for Corvera