Paramount Murcia crumbles in face of London counterpart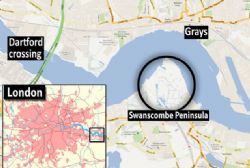 Things are not boding well for the Paramount Murcia theme park project.
Whilst the promoter and developer of the project - Proyectos Emblemáticos Murcianos S.A. (PREMURSA) - is still struggling to find investors willing to fund the project after more than 5 years, news has come in this week that the Paramount London project has secured some EU 140 Mln in Chinese investment.
Despite the Paramount London project being announced a number of years after the Murcia project, it looks more than likely to become Paramount's first operational theme park in Europe.
Meanwhile, another of Premursa President Jesus Samper's companies - Santa Monica Sports - was declared bankruptcy last March, which has placed Samper in a less than attractive position for gaining the confidence of would-be investors.
May also marked the 3 year anniversary of the laying of the first stone of the theme park, with the minimal amount of construction work taking place since then - in spite of promises of up to 20,000 jobs being created in the construction phase of the project alone.
When it was first reported that the Paramount London project had been launched back in 2012, Samper admitted that his British counterpart had already been awarded a licence from Paramount, but said the UK company had "no project or design".
The president of Premursa conceded that the Murcia project had a licence that was "Complex", as it was "Subject to the co-operation of the local Municipalities".
At the time, Samper dismissed the threat of the London theme park, adding that it was planned for operation in 2019, whilst his Murcia park would be operational in 2016.
Futher challenges ranging from Premursa's inability to purchase the required plot of land, to legalities over funding from Brussels have since led the Murcia project to be downsized, which in itself has sent out further negative messages to the investing community.
The question needs to be asked : Will Paramount Murcia ever become operational, and if so when ? - Furthermore, will it be on the scale as originally promised and will it be economically viable in it's own right, or propped up by a regional government unwilling to admit failure ?
Recommended Reading :
* Paramount UK rolls on as Murcia coasts
* Paramount Murcia under further pressure from Paramount London
* Paramount's London theme park lays down timetable