Murcia's San Javier Airport numbers down on Corvera confusion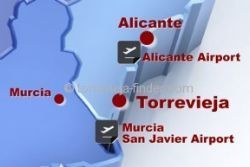 Passenger numbers at Murcia's San Javier airport fell once again in October, according to figures released by AENA.
The number of those traveling through the airport fell to just 115,993 - or 2.4% down on the same month last year.
By contrast, Alicante airport saw a 6.3% increase to more than one million passengers.
2015 to date, San Javier has only seen a fraction over 1 Million passengers, but with a decrease of 2.4%, ranking 18th in the AENA network of Airports.
Corvera Confusion
The ongoing uncertainty surrounding the issue of the closure of San Javier airport in favour of opening the (proposed) newer Corvera airport has also had a detrimental effect on passenger numbers.
With airlines unwilling to commit to a region who struggles with organising it's own sock-drawer, passengers are seeking the more secure and stable alternative of cheaper. more frequent and a better choice of route and airline offered by neighboring Alicante airport.
The much-promised 'better connectivity' to Corvera Airport and the surrounding areas via the introduction of the AVE to Murcia has also been noticeable by it's absence.
Last week the Regional Minister of Development, Francisco Barnabas, told the press how an agreement was yet to made between AENA, the Regional Government and Aeromur with regards to the compensation payments between San Javier and Corvera, due to "unresolved disagreements over finances".
Both sides are understood to be trying to agree upon the final amount of compensation claimed by AENA close its operations in San Javier for transfer to Corvera.
Barnabas acknowledged that the region awarded the joint venture EU 36 Mln back in 2013 for the concession of the airport.
With the Spanish General Election looming on the 20th December, it looks highly unlikely that any agreement between the 3 parties will be made before then, and that the issue could become a political hot potato for the next administration - whoever that may be.
According to AENA, passenger numbers at Murcia's San Javier airport jumped from 88,608 in 1995 to 1,181,490 passengers in 2012 - the facility's best ever year.
Recommended Reading :
* Jet2 drops San Javier Murcia to Edinburgh route
* Murcia's Corvera Airport open May 2016, Ryanair hub ?