Murcia allocates budget to Corvera Airport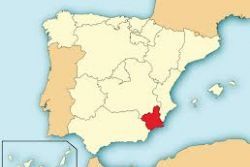 The Ministry of Public Works and Infrastructure for the region of Murcia has allocated the sum of EU23.8 Mln from net year's budget to finance the required infrastructure to secure the arrival of the AVE high-speed rail network.
A further EU425,000 has been allocated for costs associated with working towards the operation of Corvera International airport.
The Minister of Public Works and Infrastructures, Francisco Barnabas, told the Commission of Economy, Finance and Budget, in the Regional Assembly earlier this week that his department will have a total budget of EU165.3 Mln for 2016 - EU28.3 Mln, or 20.5% more than 2015.
The Ministry has allocated only EU425,000 for maintenance Corvera Airport in order to maintain and secure the site until the new operator of the facility is named in Q1 of 2016.
Recommended Reading :
* Back to square one for Corvera airport
* Murcia's Corvera Airport open May '16, Ryanair hub ?