Unsold Spanish Property Falls by 50%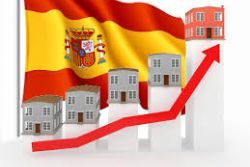 Spain's backlog of unsold residential properties has now fallen to to 462,000, according to Juan Antonio Gómez-Pintado, President of Property Developer Association Asprima.
The figure is expected to fall further still in 2016.
A report by the Bank of Spain back in 2010 put the levels of unsold Spanish Properties at anywhere between 700,000 to 1.1 Million.
The number of new properties being built by developers and construction companies peaked in 2007 - 2008 at 750,000, before falling dramatically to 137,00 in 2009 - 2010 after the crash of the Spanish property market.
News on Friday reported how September's Mortgage approvals on Spanish properties was 20.2% up on the same period in 2014, representing the 9th consecutive month of an increase in capital loaned out by the Banks.
Recommended Reading :
* 1.1 Million Spanish Properties Remain Unsold
* Spain's Home Mortgages Rise by 20.2% in Septemeber