Spain's fragmented supermarkets squeezed towards mergers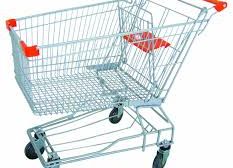 Spain's patchwork of supermarket chains, many privately owned, are keeping their heads above water in the face of a lingering economic crisis and high unemployment, but the pressure to merge or die is relentless as hard-up shoppers remain choosy.
A surprising array of businesses make up Spain's grocery sector, with the 5 biggest operators - privately-owned Mercadona, DIA, Carrefour, Auchan and Eroski - barely controlling 50% of the market between them.
Alongside them are dozens of tiny operators, many of which have become vulnerable as the tepid demand through years of crisis has depressed prices and whittled down margins.
The fragmented nature of the market is in stark contrast to the 80% dominance of the five biggest chains in the likes of Britain and France.
If Spain develops in the same way, as many sector experts believe, a potential EU21 Bln of revenue would become available as smaller chains merge or disappear and bigger players, including discounters Aldi and Lidl, take up the slack.
Ines Gonzalez, a 38-year-old bank employee, is one of a growing number of Spaniards who have been seduced by Lidl's low prices and weekly international offers during the crisis.
"They have electronics, clothes, good fresh produce and sometimes offers from abroad," she said as she lugged two large shopping bags out of a central Madrid store.
Spain's population has shrunk as 21% unemployment pushes workers to seek jobs elsewhere. Most Spaniards remain pickier shoppers and many are poorer than 8 years ago when a property bubble burst, though officially the crisis is over.
Along with Mercadona, market leader with a 22.9% market share, Germany's Lidl has hit the right format and is opening 40 stores a year to Mercadona's 60.
"It may be that there are now customers who don't look so much at prices as at quality. But the effect of the crisis is still there and will continue as long as there is high unemployment and low wages," Madrid-based retail consultant Carlos Hernandez said.
The most vulnerable grocers are those with annual turnover of between 200 million euros and 900 million euros, or large family-run businesses.
"Smaller retailers will start to die. Most of them are family businesses and it will take a long time still for them to recognise that they have to do anything," said Gerhard van der Vorst, a banker who specialises in the retail sector.
"(But) it will happen because technological progress will force them into it."
Consultant Kantar says that the big 6 operators increased their market share by 1.2 percentage points in the first 9 months of this year.
STRONG REGIONAL CHARACTER
The acquisition of family-run businesses that are reluctant to sell can be a tall order, but the takeover is only the half of it. Post-deal brand integration brings its own complex challenge, as seen in DIA's acquisition of El Arbol and some Eroski stores.
Another consolidation obstacle comes in the form of Spain's regional loyalties, languages and specialist local retailers.
Regional retailers have withstood pressure partly because of a special wholesale purchase system that allows them to bid jointly for supplies. Because of that and the proximity to their suppliers, regional players still maintain an edge over many national chains when it comes to fresh produce.
For the moment, many of the grocers to beat are regional players such as Gadisa in the northwestern region of Galicia, Alimerka in Asturias and Lupa in Cantabria, both in the north.
"Some of the local chains are doing brilliantly, like AhorraMas in Madrid, but others are on the edge in terms of their finances and more than likely will be part of consolidation," Mirabaud equities analyst Gonzalo Sanz said.
Sales at Madrid chain Unide more than halved to 260 million euros between 2008 and 2013. It made a failed attempt to merge with Granada-based Corviran in 2014 and is now seen as a potential takeover target.
Department store El Corte Ingles, meanwhile, could hive off its loss-making supermarket chain, which has a 2% market share. Possible buyers could be Valencia's Consum, a winner during the crisis, with annual turnover of 2 billion euros.
Other potential deals include asset sales to rivals, analysts say, though brand integration remains a significant risk factor in such moves.
"(DIA) has yet to demonstrate it can effectively operate more complex supermarkets and needs to address its own proposition and brand equity before investors should be comfortable with a supermarket consolidation drive," according to Exane BNP Paribas research.
Recommended Reading :
* Amazon launches 'Supermarket' delivery service in Spain
* Supermarket Mercadona sees brighter Spanish outlook