Spain leftists block Catalan independence bid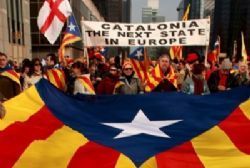 Efforts by the acting president of Spain's powerful northeastern Catalonia region to form a pro-independence regional government have been dealt another blow after the radical pro-secession CUP party reaffirmed its opposition to his candidacy.
Artur Mas heads the "Together for Yes" alliance that won 62 seats in the 135-seat regional parliament in September elections but, lacking a majority, he is seeking support from CUP, which has 10 seats.
CUP has voted against him twice and on Sunday its members decided to maintain the stance. They agreed to continue talks with Mas' alliance but called on it to present another candidate.
The Catalan parliament has until Jan. 10 to form a government or call a new election.
Spain has ruled out any possibility of the region separating.
Recommended Reading :
* Fitch downgrades Catalonia to BB outlook negative
* Spain appeals against Catalan independecne motion