Spanish Airport Passenger Numbers up 8% in November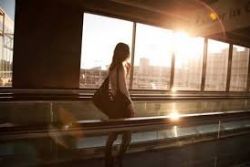 Airport operator AENA saw passenger numbers at its 46 Spanish airports rise by 8% to 13 million in November compared with the same month last year, the 25th consecutive month of increases, the Public Works Ministry said on Tuesday.
That compared with a 7.8% rise in October.
AENA said in July it expected passenger numbers to rise by 4% this year. November figures contributed to a 5.5% annual increase in the first 11 months of the year.
Spain, with a tourist sector worth around 11 percent of its economy, has registered a record number of visitors this year, seeing some 6.5 million foreign travellers in October, up 9.7% from last year, according to the Industry Ministry.
Recommended Reading :
* Spain breaks tourist record with 544 Mln foreign visits up to September
* Ryanair encouraged by popularity of Castellon Airport